In Memory
Bruce McGregor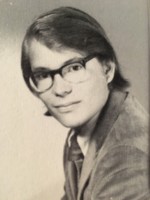 Bruce Cameron McGregor
19 February, 1955 - December 8, 2015
Bruce Cameron McGregor, age 60, passed away peacefully at home on December 8, 2015.
Family and friends are deeply saddened by his unexpected passing.
Bruce was born 19 February, 1955 in Redwood City, CA. He was a 57-year resident of Palo Alto. He attended Addison, Jordan, and graduated from Palo Alto High School in 1973. Bruce received his AA degree from Foothill College and his BA in Business Administration and Finance from Cal-Poly.
Bruce enjoyed the sport of riding motorcycles. He was in many flat track races in the 1970's and received many trophies. He and Eileen went with family and friends every year to Laguna Seca. They enjoyed participating in the Palo Alto Concourse and other car shows with his 1958 Oldsmobile.
Bruce's career path ranged from a computer information technology technician to retail sales. In recent years he really enjoyed working for Peet's Coffee & Tea.
He is survived by the love of his life, Eileen, two bothers Bryan and Neil, his nieces, nephews, great nieces and great nephews, Gloria, and his many friends.
A chapel memorial service was held at Alta Mesa Cemetary in Palo Alto on 16 January 2016.