In Memory
James Strong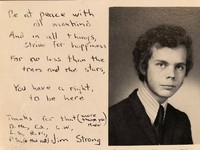 James Strong died in a three-alarm fire at a condominium complex in Santa Clara early Sunday morning of 28 January. Our Sincere condolences to his sisters and brother.
James, a Santa Clara resident, was found in a state of cardiac arrest inside a two-story condo that had gone up in flames at the Lafayette Americana complex at 1031 Clyde Ave., Santa Clara fire officials said.
Firefighters administered CPR and advanced life support, but Strong died at a hospital, Battalion Chief Jeremy Ray said.
Fire crews were dispatched just before 2 a.m. Sunday to the blaze and had the fire under control in about 30 minutes, Ray said.