In Memory
Rosemary McCluskey (Mathy) VIEW PROFILE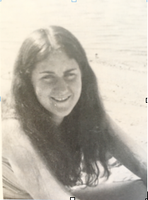 Rosemary McCluskey (Mathy,) 55, of Champaign, died shortly after noon on Sunday (April 10, 2011) at Loyola University Medical Center in Maywood, lllinois.
Born on May 17, 1955, in Medford, Massachusetts, she was the daughter of Edward J. McCluskey and the late Roberta Erickson. She married Jean-Philippe Mathy on July 29, 1978 in Memorial Church, Stanford California.
She leaves her husband; children Gabriel (Rafaela) Mathy of Davis, California, Patricia Mathy of Chicago, Illinois, and Christopher Mathy of Champaign.
Also surviving are her father and stepmother, Lois McCluskey, of Palo Alto, California; sister Therese (Charles) McCluskey of Alameda, California; brothers Ted McCluskey and Joseph (Christina) McCluskey, both of Palo Alto, California, David (Tony) McCluskey of San Francisco, California, and Kevin (Ann) McCluskey of Kansas City, Missouri. Nieces: Morgan, Emma Rose, Madeline, Katie. Nephews: Nathaniel, Daniel, Nicholas, Sean.
She was preceded in death by her mother, Roberta Erickson (McCluskey)
Family moved to Palo Alto in 1966, where she attended Crescent Park Elementary, Jordan Junior High, and Paly High.
Rosemary graduated from Stanford University in 1977 with a dual degree in French and History. She also attended the University of Paris, and taught both French and English at various institutions in France and the U.S. Later in life, she graduated from the nursing program at Parkland College, and worked in nursing at the University of lllinois. Her interests included alternative approaches to the treatment of dementia in older adults using yoga and tai chi. Rosemary was trained in the Iyengar method of yoga, and taught for several years at the Yoga Institute of Champaign-Urbana and the Champaign County YMCA. She was recently certified as an integral life coach with New Ventures West, in SF.
Rosemary was an avid gardener who loved to read and travel. Her children were a constant source of joy and pride for her. She served in a variety of ministries at St. Patrick?s Church in Urbana. She was a vibrant and caring person who had a gift for making friends and helping others. She loved the ocean, visiting on her frequent trips to the Bay Area.
Click here to see Rosemary's last Profile entry.